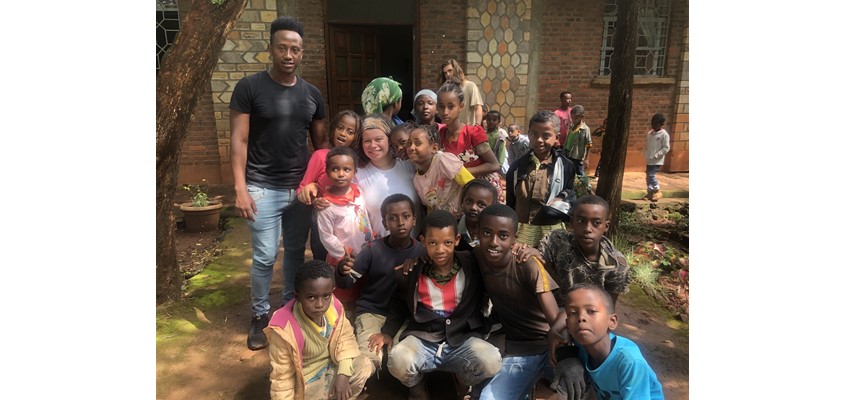 Hey everyone! Here is an update on how my intership is going this far.
I would first like to thank you for helping me on this journey, whether through prayer or donation, I am greatly appreciative of everyone who has supported me this far and I am excited to share with you what this trip has done for me.

Week 1:
For the first week we were in Nairobi, Kenya. There we attended church in the Kibera slum at Pastor Michaels "Little but big church" as he likes to call it. We spent time with him and that community for three days, visiting a pastor and learning about their shoe project, which is how they bring income for the community and their families. They make everything by hand, the shoes are made from old tires and the necklaces and bracelets they sell are made from old calendars so that they may recycle rather than allow these things to be burned in the community, which is bad for the environment.
We spent the rest of this week in the Mathare slum, where we met Pastor Jennifer. She runs a church and a school for orphaned and vulnerable children in the slum, and her goal for this community is that a library would be built to help further the children's education and promote reading and comprehension skills. In Mathare, we also went on some business and home visits, to learn about Life In Abundance's Community Health Evangelists (CHE) and Micro-Enterprise program, which helps empower the families in Mathare economically. One story that really stuck out to me in Mathare was the story of a women I met on a business visit, who Win and I visited on one of our business visits. She lost her husband years ago, and was left with four children and no source of income, since her husband was the 'bread winner' for her family. She went to live with her sister who also has children of her own, but eventually it became hard for Ruth's sister to provide for both families so she was forced to move out. In time she found pastor Jennifers church, became a CHE, started a business selling bread and other foods, and now is able to support herself and her children. Praise God.
Overall I loved the experience of going to Nairobi and meeting the people of Kibera and Mathare. I learned that no matter where you are or what your situation may be, the Lord is always with me and will always provide for me. I also learned that poverty is not just an economic status, but something someone or something may be lacking. For example, these slums have an economic poverty but they are some of the happiest, most faithful people I have ever met. America doesn't struggle with economic poverty near as badly, but what we do struggle with is truly being happy in our circumstances and leaning on God in every situation, we have an emotional poverty. This really widened my perspective on what poverty is and how it should be approached in different situations.

Week 2:
This week was probably the most impactful for me on this trip thus far. We flew to Kisumu, Kenya, where we fellowshipped with the Pastors of the Manyatta slum in Kisumu all week. I feel like this week the team, myself included, really got to build solid relationships with the people we were serving with because we were in the same place all week. We went on several different home visits to CHEs and pastors, played with the kids in running club, worshipped and fellowshipped with the community, and my favorite: did a seed project to help the community. A seed project is a small scale project in the community to help those living there in some way. First the pastors, CHEs, and the team worked hard to put a bridge back together that was separated by flood waters. After that we dug a ditch in the ground so the stagnant water next to the roads would flow into the river nearby to help with sanitation. It was hard work but myself and the rest of the team loved every second of it. It was a great bonding moment between us and the people of Manyatta, and because of these bonds made these goodbyes were definitely the hardest for me.

Week 3:
For the last week in Kenya we went to Narok, which is the most rural of the three places we visited in Kenya. A majority of the residents make a living by farming, and live in huts made of mud and sticks deep in the hills of Narok. My favorite part of this week was visiting four CHEs in the middle of the week. It was very eye-opening for me, because we had to travel miles to these homes where there is no transportation for the residents, so they have to walk. I loved hearing the stories of what God has done for these people through Life In Abundance, and how they love the organization because it really helped them get on their feet economically and helped them grow spiritually. It affirmed to me what LIA was doing in these communities for me and helped me truly understand what wholistic ministry is and how it is practiced in different contexts. This week we also celebrated Brayley's Birthday. It was a great time together just appreciating her and who God made her to be, and it was really cool to see how our team leaders Gus and Steve, and well as the pastors, celebrated with us during this special time. During our time in Narok we also got the opportunity to learn about the Maasai culture in Kenya. The Maasai are very traditional and set in their ways. When the men come of age they go into the wilderness for three to five years within a group, and with that group they work together to kill a lion to bring back home. They also only eat beef, chicken and goat meat and only drink milk and cows blood. This of course was a giant culture shock to me and the rest of team, we couldn't stop talking about it for the entire week. I still cant wrap my head around how differently they live but I love it and it was so cool to get to know some of the Maasai warriors (the men who kill the lion) and hear their stories.

Week 4:
For the first week in Ethiopia we stayed in the capital city, Addis Ababa. We visited serval people in their homes, a saving and credit union which helps promotes saving and business in the community, and a medical clinic called the Zoe clinic. Ethiopia is so different from Kenya so it took me a couple days in the city to adjust to all of the new things I am seeing. I loved the Zoe Clinic, we got to sit in with the doctors and nurses while they were checking on their patients. They told us all about their goal in the community and why they want to work at the clinic instead of a government hospital, and about their hearts for Gods people and their willingness to serve them. Truly inspiring.

Week 5:
This past week we traveled from Addis Ababa to Adama, Ethiopia. We went to a church in Adama called Gospel Light Church, which was only in Amharic. I love that we had the opportunity to worship in their language. They were yelling, jumping, dancing, and singing with all of their soul. The feeling I got worshiping with these people in a language I didn't even understand was so peaceful and joyous. It was the first time I have felt something that strong while worshiping and it made me want to strive for that feeling when I get home. In Adama we also visited a saving a credit union with the church that we went to on Sunday. It was very educational and I know God is going to do great things in that community as time passes by.
From Adama we went to Jima for three days. There we visited the LIA Sanitation and Clean Water Project and the Compassion Project for children in the church. The facilitator of the project said that kids come everyday of the week to learn the word, play games, learn how to sow and embroider, and to hangout with friends at the church. We split up into two groups so Morgan, Brayley, and I were with the older kids, ages 11-20. I played volleyball and basketball with them as well as dancing and sharing words of encouragement with them. The time here was very special for me, especially because I absolutely love kids and spending time with them. The language barrier didn't matter and the kids were so loving and accepting of us that their pureness and innocence just made my heart swell. I think this time with the kids was the most genuine feeling of love I have felt since this trip began, and I know it will resonate in my heart forever.

As I go into the last week, I am focusing on being very present in every situation we are put in. In the middle of the trip I was struggling with homesickness but now I know that home is just one week away, I dont want to miss out on what the Lord has for me this week. I am so thankful for all the things I have learned and experienced these past 5 weeks and I am so excited to take what I have learned here in Africa and apply to my everyday life when I get home. God is teaching and showing me so many things, and when I get home one of my main goals is to meditate on what I have seen and try to understand some of the things I learned, although I know that some things are not meant to be understood right away.
When I go home, I know the hardest thing by far is going to be saying goodbye to my team. We are not just a team, we're a family. We have each bonded in such a way that it would be impossible to forget, and I know these bonds will never be broken. I know God definitely had his hand in preparing this team, because we have all gotten along so well and not once have we had a disagreement or a falling out. I pray that as we go back to our homes, whether it be in Nashville, Tennessee; Waco, Texas; Louisville, Kentucky; Elizabethtown, Kentucky; or Dayton, Ohio, we will keep and touch and rely on each other for emotional, spiritual, mental, and physical support just like we have in Africa. Thank You God for this team, because without them I dont know if I could have made it through.

Thank you so much again for aiding me on this journey. This trip has meant so much to me, it has helped me grow and stretch in so many different ways and I am beyond grateful for it.

Share Your Thoughts
Share